Soaring Innovation: Pitch Aeronautics Is Redefining Flight in the Heart of Idaho
Launched from the picturesque landscapes of Idaho, a pioneering aeronautical company is redefining drones and what they are capable of doing. Headquartered in Boise, Pitch Aeronautics is rapidly emerging as a trailblazer in aviation and a game-changer in the renewable energy industry, pushing the boundaries of aeronautical innovation and engineering to address a major barrier to increasing use of renewable energy.
Pitch Aeronautics was founded in 2016 by Zach Adams and Ian Gibson, classmates from the Air Force Academy. Pitch's CEO and chief engineer, Dr. Adams is recognized as a leading authority on cyclorotor technology, has been published extensively on the topic and is named inventor on multiple cyclorotor patents. He served as an F-15E Striking Eagles pilot and flight lead at Mountain Home Air Force Base, which along with whitewater kayaking, mountain biking, and skiing, brought Zach and Pitch Aeronautics, to the Treasure Valley.
Pitch has developed a drone that is ideal for installations, maintenance, and up-close, touch-based inspections and installations on power lines and other industrial and commercial infrastructure. Today's drones have difficulty flying close to structures because they must lean forward to move forward and lean back to move back. Pitch's cyclorotor enables lateral control, which allows the drone to move forward, backwards or side-to-side precisely and quickly, without leaning.
Astria drone allows Pitch Aeronautics to address the primary barrier to implementation of more renewable energy, lack of capacity for additional power transmission. There are more than two terawatts of renewable energy projects that can't get started because there isn't enough transmission capacity to send that energy. "That's actually more generation capacity than there is from all of the power plants in the U.S. today," said co-founder Zach Adams when describing the opportunity.
Ironically, most of the time there's untapped capacity on existing transmission lines. When the wind and ambient temperature cools the lines, you can push 20% or more power through the lines. That's why the Federal Energy Regulatory Committee is mandating that the utilities account for those variables. This requires installing sensors along the entire path of a transmission line. But today, the sensors are very expensive, around $20K to $50K each, and to install them with a helicopter is around $5K to $10K.
"Pitch Aeronautics isn't selling Astria; we're using it as a tool. We're selling the components installed on the lines," explains Adams. One is a dynamic line rating sensor that measures wind speed ambient temperature and other line characteristics like vibration and sag and wirelessly transmits that data over the cellular network. Utility companies can then use dynamic line rating software providers to merge that data with weather forecasting and determine how much power can actually be pushed through the lines. "It's probably the fastest way to enable more renewable energy projects in the U.S.," said Adams.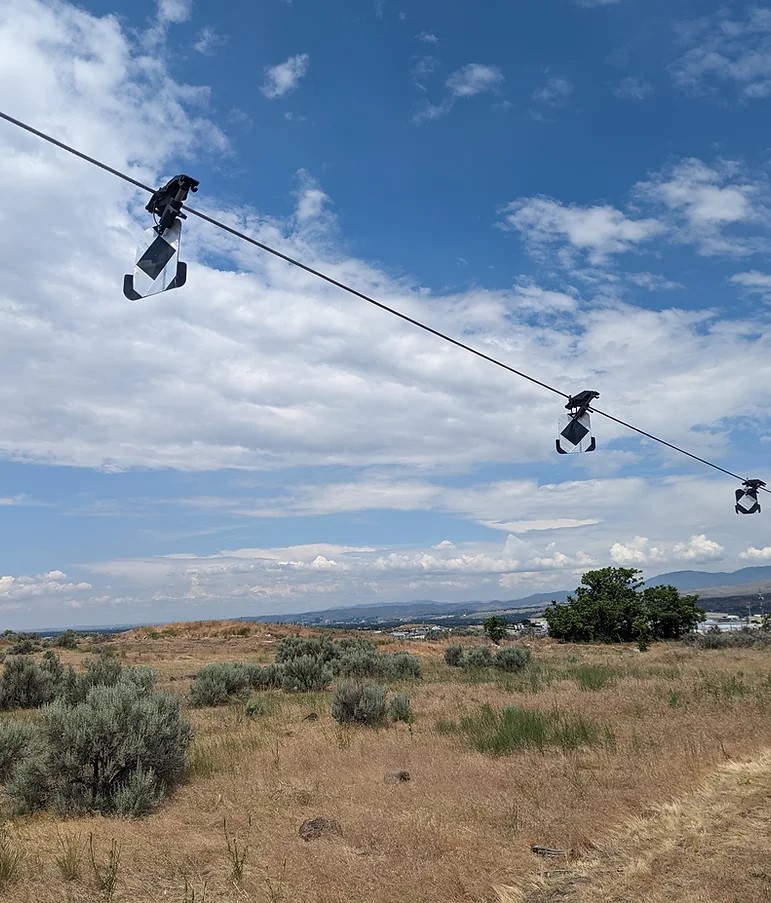 The application Pitch has ready-for-market is installing bird diverters on power transmission lines. It's estimated that around 60 million birds a year die from colliding with power lines in the U.S. alone. Bird diverters help birds see and avoid collisions with lines. For some species, bird diverters can make a significant difference in their populations. Pitch's Astria drone can be deployed and install up to 15 of these in a single flight.
"There's some business nuances with why we chose to pursue selling components installed," explained Adams. Utilities can make up to seven percent profit on capital expenditures, but can only make one percent profit on O&M. This incentive was created back in the early 20th century to incentivize utilities to build more lines. Today, because they're not really incentivized to do advanced maintenance or improvement of their existing infrastructure, Pitch must be careful to fit their costs within a utility's capital budget.
Pitch joined IMA in fall of 2022 and recently hosted a well-attended IMA site visit. They appreciate the Idaho Manufacturers CONNECT directory and have used it before to source Idaho suppliers. "Drones manufactured in China comprise more than 80% of all the drones that are available. Due to cybersecurity concerns, we have really tried to prioritize domestically sourcing components to the very maximum extent," said Adams.
While Pitch has been fortunate to connect with local Treasure Valley machine shops and has even found a local injection molding company, they haven't been able to source their entire supply chain directly from Idaho suppliers. They have had better luck regionally and do source many components from Utah, Oregon, and Washington. The only parts they aren't able to source domestically is electronic components.
Pitch Aeronautics not only wants to be able to source from suppliers in the U.S., they ideally want to find them in Idaho and the Treasure Valley. They gladly took the 15 minutes necessary to add their Company Profile to the Idaho Manufacturers CONNECT directory and assist in Supply Chain September's mission to improve the local supply chain dataset. If you're interested in connecting with Idaho manufacturers like Pitch Aeronautics, go to https://connect.idmfg.org/company-profile-form and complete your Company Profile TODAY!