Defined by its steep-hilled farmland, North Central Idaho's Camas Prairie was created tens of thousands of years ago when wind-blown sediment settled in the region. As productive as this soil is for farming, the hilly terrain creates challenges when harvesting grain. Based in the midst of some of the steepest farm ground found anywhere in the world, Hillco Technologies manufactures and markets an aftermarket, bolt-on combine leveling system to help dryland farmers of the area economically deal with the challenge of working the contours of these hills.
Without leveling systems, the threshed crop moves to the low side of the combine's cleaning shoe, allowing air to escape without lifting and separating any crop, resulting in a stripe of grain left on the ground. Leveling systems help reduce this grain loss by evenly distributing the threshed crop on the shoe allowing for maximum separation and cleaning. Leveling systems also allow combines to move faster and more comfortably on hills enabling more high-performance productivity during harvest.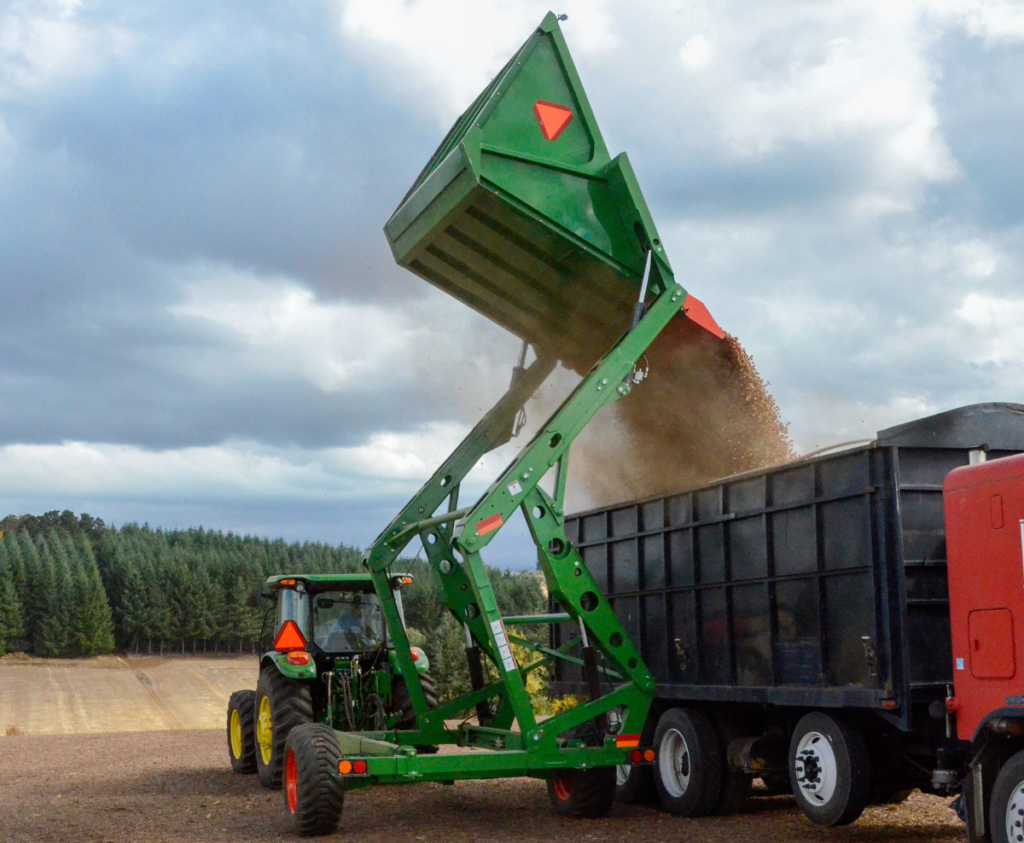 Converting level-land combines to leveling combines is the technology Hillco is most known for. Their objective to design, develop, manufacture, and service exceptional quality ag equipment that enables increased production and decreased costs extends far beyond just leveling. "Our products are built to solve customer's issues," says Lauren Elliott, Marketing Associate at Hillco.
From their Wrap Twine Remover for safely removing twine or net wrap from hay bales without getting off the tractor to their high-reach, low-profile dump carts that reduce handling steps for orchard growers, Hillco solves the unique problems faced by farmers and ranchers, one product at a time.
What sets Hillco apart is their mission is to "build good stuff that the big guys don't." They do that by delivering innovative products of exceptional quality that offer high value to ag-based niche markets. For instance, their harrow carts are built with replaceable spikes, durable high carbon steel and heavy wing tubing to provide the most durable and robust cart on the market.
Family-owned Hillco Technologies is a descendant of Hill Industries, a company started by current owner and CEO Lenny Hill's father, Arlie Hill. For Arlie, manufacturing farm equipment accessories began with personal need – he invented the first hydraulic harrow cart because he needed help lifting a harrow. Soon, he was making them for his neighbors and eventually, for farmers all over the U.S. and Canada. Arlie became known as an equipment problem-solver and although he had no formal education as an engineer, he became a renowned inventor of problem-solving innovations for farm implements.
More than just the founder of innovative farm implements, Arlie also created a family-friendly work culture that is still proudly prominent at Hillco Technologies today. Hillco shows they know the company's best asset, its employees, are the heartbeat of the company by hosting a variety of employee appreciation events throughout the year to thank their hard-working crew. New third-generation employees grew up attending these functions with not just their parents, but their grandparents.
Hillco Technologies' manufacturing facility is based in Nezperce, Idaho, where their 55 employees witness first-hand the investment the company makes to support the surrounding community. The company actively seeks ways to inspire local youth to follow their dreams from internships to youth conferences to on-the-job training and education. As the largest employer in Nezperce, Hillco gives back to the community because by doing so, they enable the community to grow with the company.
Hillco Technologies is growing – over the past three years, they have doubled the square feet devoted to manufacturing. New upcoming products have created a bright future at the company. Hillco recently joined IMA for the community of a manufacturing family, and they're excited to learn from and collaborate with other Idaho manufacturers. They welcome interest from other IMA members who are eager to learn more about their processes and best practices.