The ability to stay flexible to take on configure-to-order and engineer-to-order special products fulfilled through short-notice production runs is a high priority for manufacturers today. A Boise-based company with a twenty-five-year history of solving customer's charging and connecting problems, Portsmith is becoming the epitome of nimble customer-driven manufacturing. They specialize in creating custom docks, cradles, and adapters for the enterprise-grade handhelds and tablets used for automatic identification and data capture (AIDC) at warehouses, in stores, in factories, at entertainment venues, and even in vehicles.
"Still, being able to do short runs is one of our biggest challenges," said Jeff Moeser, Portsmith's Chief Visionary Officer. A former Micron Electronics executive, Moeser has witnessed firsthand the evolution of technology. He says the rapid advancement of 3D printing technology has moved it beyond prototyping. "Thanks to our friends at HP, it is approaching parity with injection molding," explained Moeser, and as a result is becoming increasingly widespread for part manufacturing, helping address the short-run obstacles.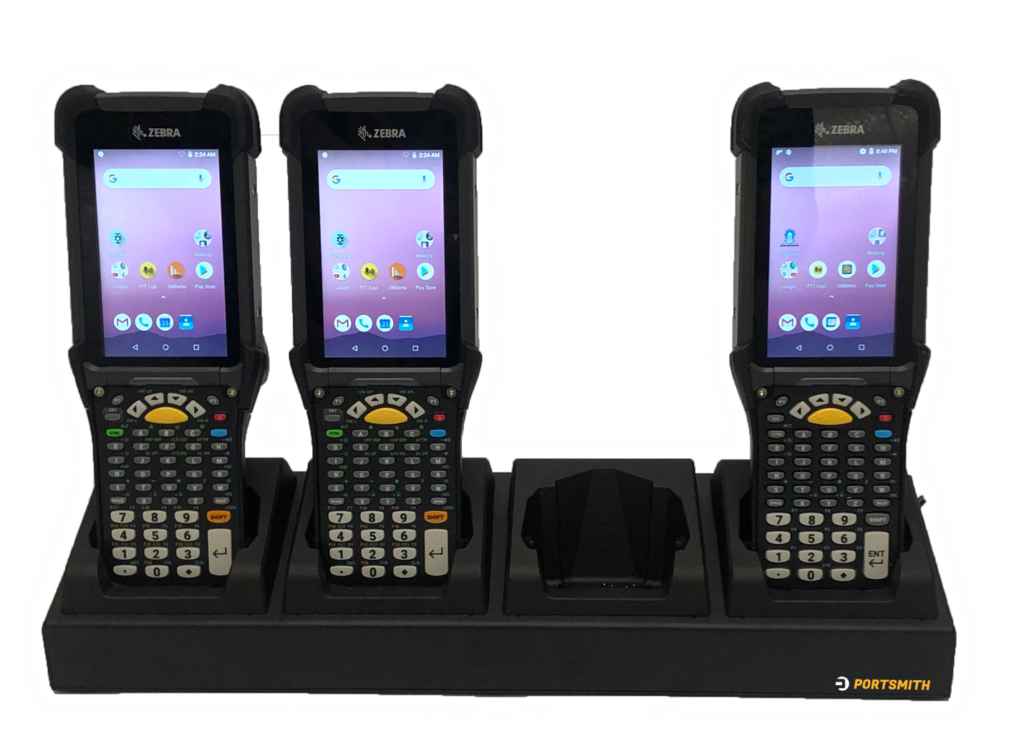 Another Boise-based tech company, SGW Designworks, acquired Portsmith six years ago, after partnering with them on the prototype, design, and production of products. "We dated first and then we got married," joked Moeser, when telling the story of the two companies. Perfectly suited to each other, their relationship has further strengthened since then, ensuring each product development engagement results in better-built products.
Portsmith's products are created to charge and connect the rugged handhelds produced by manufacturers Zebra, Samsung, Honeywell, Panasonic, and Datalogic. Portsmith's solutions feature docks and cradles that charge and/or connect from one to eight devices on a desktop, in a vehicle or rack-mounted in multiples to a tower. They create modular solutions to be able to apply the same proven technology to a wide range of use cases and use modular parts to allow for lower cost compatibility when customers migrate their handheld devices.
Portsmith designs, manufactures, and distributes products that enable users of handheld mobile devices to maximize the utility and value of their equipment. They have facilitated the successful deployment of hundreds of thousands of mobile computers globally. They take great pride in the role they play helping mobile professionals, VAR's and companies around the globe be more productive. In 2021 and 2022, they received the Good Design Award from The Chicago Athenaeum Museum of Architecture and Design for the most innovative and cutting edge Industrial, Product and Graphic designs produced around the world.
Portsmith's products have been sought after and validated by virtually every leading rugged device manufacturer in the world. With products designed for industrial and enterprise applications where reliability and durability are everything, they have prioritized "quality first" since the beginning. Their docks, cradles, and adapters commonly out-live the rugged technology they charge and connect. With over one million units installed, customers trust that this ISO 9001 and UL certified manufacturer consistently delivers best-in-class enterprise grade reliability.
Portsmith develops application-specific adapters to specific MIL-STD based on the needs of their military customers for a multitude of applications. Designed for durability, their adapters can be customized with a variety of interfaces and connectors and are compliant with MIL-STD-810G and MIL-STD-461F specifications. Even for low-quantity applications, they can create the custom adapter needed for successful tactical and maintenance ops.
Aligned with the IMA mission to use knowledge-sharing, collaboration, and advocacy to influence an environment that creates benefits for the industry and the community, Portsmith jumped at the opportunity to join the Idaho Manufacturing Alliance. The main objective of their membership is to gain access to a community of smart, creative people who can help each other solve problems. "Idaho used to have more manufacturing," says Moeser, "together, we can help keep Idaho manufacturing alive!"