Being approached at the 2018 International Manufacturing Technology Show by manufacturing solution distributor Gosiger to license the VersaBuilt VBX-160 robotic part loader was a harbinger for VersaBuilt Robotics. The Boise-based market leader in the automation of high-mix CNC production was considering a product pivot of their CNC automation technology. Traditional industrial robots like those used in their VersaBuilt VBX-160 are difficult to program and use and can be dangerous to manufacturing personnel. Collaborative robots or cobots, are much easier to deploy and with their advanced sensing capabilities, are safer to operate in the presence of humans.
The new VersaBuilt Mill Automation System (MAS) solves many customer needs. VersaBuilt used their experience with the VBX-160 to create a system that is not only easier to use and quicker to deliver and install, but also more affordable. Deployed in one to two days at about half the cost of the VBX-160, this next-generation VersaBuilt CNC automation processes parts through multiple operations. The machinist can quickly introduce new parts to the system at a cost of about $150. High-mix CNC manufacturers will be hard-pressed to find a machine tending system that checks all these boxes.
The VersaBuilt System Controller (VSC) allows a machinist to configure a new part without robot programming expertise using a web-based form to input part configuration parameters. Once the part configuration is saved the VSC shows the operator exactly where to place the raw material onto their VersaCart 1300.
VersaBuilt has developed a host of other CNC automation accessories that can be integrated into the system. VersaBuilt's VersaWash is an option that improves automation cycle efficiency and results in cleaner completed parts. The VersaBlast In-CNC Part and Jaw Cleaning System generates a powerful blast of air to remove chips and coolant from jaws and parts. The VersaDoor is a simple, reliable, and cost-effective CNC door opener.
As with the previous technology, the new automation technology can incorporate VersaBuilt's patented MultiGrip™ jaw technology to solve the most difficult part of automating CNC production, trying to grip and hold a vast variety of diverse shapes. The system is shared by both the robot and the CNC to truly generalize the integration of almost any part shape for automation. Created for VersaBuilt founder Al Youngwerth's other company, Rekluse Motor Sports, it proved to have applications far beyond the production of aftermarket motorcycle clutches.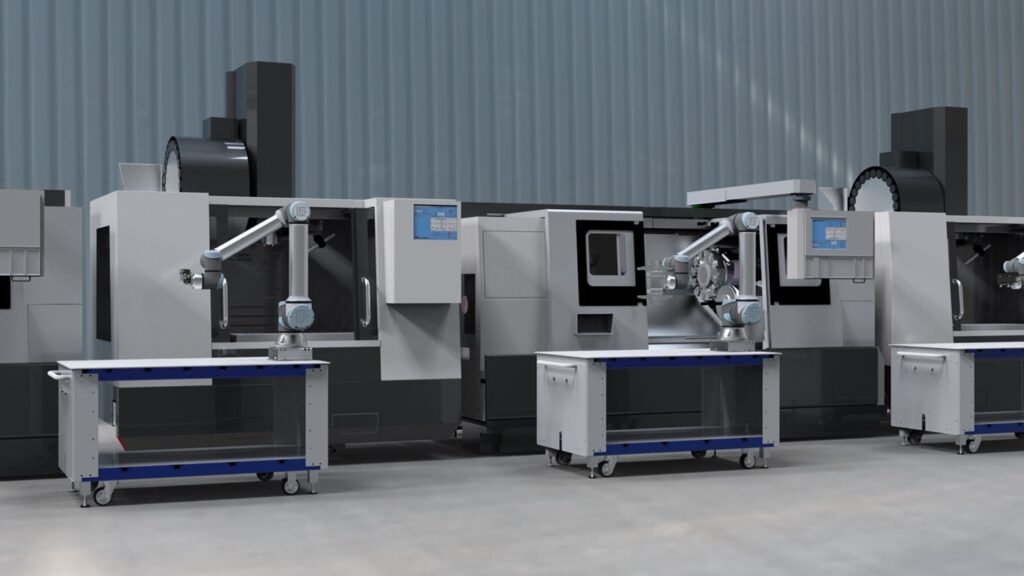 Beyond the automation technology, VersaBuilt adds extra value to their role as a Universal Robot Plus certified system integrator by delivering the highest level of support after setup. "Not all integrators are the same," states Havey. "Our goal is to delight our customers." Remote support enables VersaBuilt to provide faster, better technical support for their newest CNC automation product.
VersaBuilt Robotics sells through distributors and CNC dealers. Pivoting to collaborative robots has allowed VersaBuilt's sales process to also be more collaborative. "Instead of fishing for them, we want to teach our customers to fish," says Havey.
Brian Havey currently serves as Vice President on the IMA Board of Directors. As manufacturers themselves, VersaBuilt Robotics truly appreciates the great community of Idaho Manufacturing Alliance members who take raw material and making something of value from it. He especially likes the IMA facility tours, no doubt to add to his understanding of the challenges of manufacturing automation. Visit versabuilt.com to see if VersaBuilt Robotics could help you automate your high mix CNC manufacturing.