For Brad Bowcutt, Founder and President of JB Laser, joining the Idaho Manufacturing Alliance just made sense. Although his family-owned company has been in business for more than 20 years, Brad sees IMA membership as an opportunity to cultivate new relationships throughout the state.
"What appeals to me most is the idea of growing and keeping our partnerships in Idaho and helping out our neighbors when we can," Brad said. "It's an opportunity to buy and sell from each other and share best practices."
JB Laser offers a one-stop solution for companies seeking precision laser metal cutting services and commercial metal work. CNC-controlled operations at the JB Laser facility include laser cutting, press brake, tube bending and tube rolling. The team of eight adds additional value to their customers' projects with on-site fabrication, assembly, welding and a full commercial powder coating operation. Although JB Laser is expanding into design, component sourcing and fulfillment services, the heart of their business began with a unique 3,000-watt fiber laser.
"The laser can handle 1,500-pound sheets and can cut a variety of materials including steel, stainless steel, aluminum, copper, brass and titanium and meet demanding tight tolerances," Brad said. "We can cut it, we can bend it, we can weld it and we can powder it, all under one roof."
The ability to work with both plate and sheet metal is what differentiates JB Laser from most standard machine shops, as do their additional service offerings like powder coating. Powder Coat Operations Manager Nick Bowcutt not only specializes in commercial powder coating, but he has also amassed a following in the hotrod and race car community.
"We call it our 'Candyland' work," said Brad. "Nick and his team will do one-off projects for hotrod builders, architects and artists. Nick will sometimes spend six hours on the floor, on his back, meticulously applying powder and wiping the wheels of a car to keep the powder coat application precise. It's difficult work, and Nick is always pushing the edges of the powder coating processes."
Beyond their occasional Candyland powder coating projects, JB Laser's primary customers range from motorcycle component manufacturers like Rekluse, to off road enthusiasts, knife makers, and mining and construction equipment manufacturers.
As JB Laser's offerings continue to expand, Brad admits that running a growing manufacturing business can often feel like drinking from a firehose. In six years, the company has on-boarded a tremendous amount of new equipment and is quickly filling up the space available in their Boise facility. While a larger space and additional equipment would be ideal, the immediate internal focus of the JB Laser team is to build robust order management and customer service processes.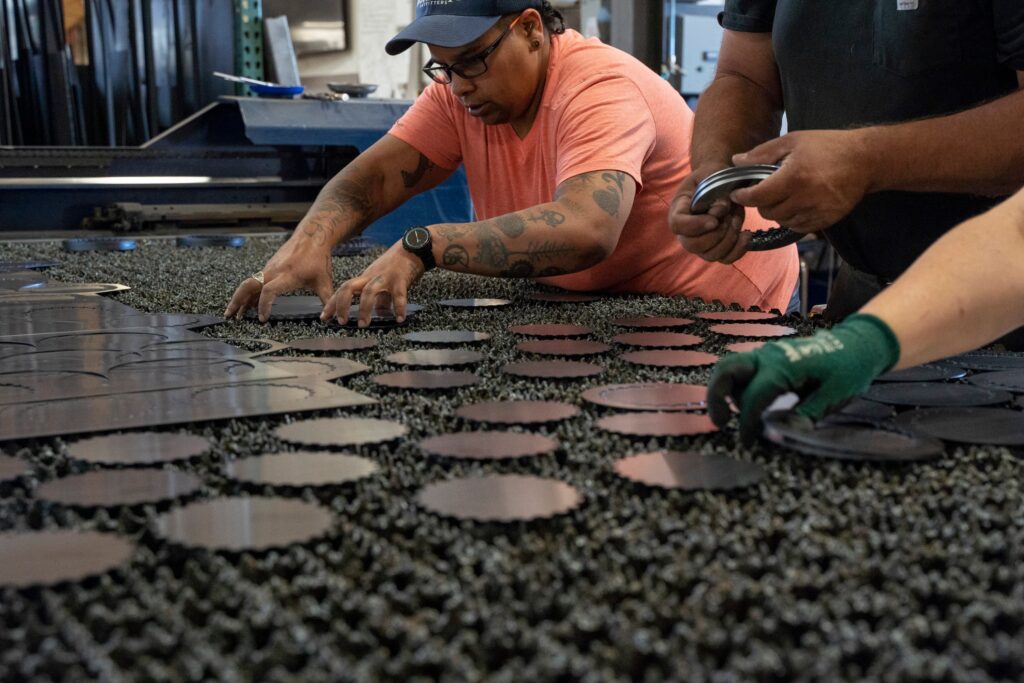 Brad maintains that finding and keeping quality employees is his number one priority.
"I recommend hiring as slowly as you can and as fast as you need," he said. "I never want to hire someone knowing I'd be letting them go. I look for people who see the big picture, take pride in their work, enjoy what they're doing and want to be here for the next 20 years."
To learn more about JB Laser and be part of their 20-year vision, visit www.jblaser.com.